LIVE Masterclass: Learn How To Crack Master Cadre & Lecturer Cadre Mathematics Exam
Learn How To Crack Master Cadre & Lecturer Cadre Mathematics Exam
MIM Academy presents a 2 Hours live Masterclass hosted by Jonty Sir designed To help you in cracking Master Cadre & Lecturer Cadre Mathematics!
Join Us Live On 9th October For Free!
Date – Sunday, 9th October 2022
Time – From 3:00 PM Onwards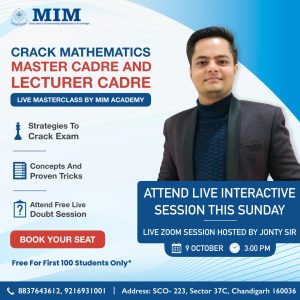 WHY SHOULD YOU NOT MISS THIS MASTERCLASS?
Well, we got plenty of reasons, and here are a few of them.
Well Thought Study Plan
Get a specific study calendar with the breakdown of the entire syllabus in a monthly planner calendar to help you plan out the studies before starting preparation.
The Right Strategy For Preparation
Understand the right way to consume the information and plan out the complete study blueprint before studying.
Understand The Exam Structure
Understand the Exam Structure in detail and learn the right way of attempting the question paper in order to solve maximum questions in lesser time to achieve the maximum score..
Exclusive Q&A Session
Get a free doubt session with our expert teachers to clear all your doubts and queries related to the subject or career related to higher mathematics.
Changing Trends in Master Cadre and Lecturer Cadre Exam
We will be discussing the changing trends in Lecturer Cadre & Master Cadre Exam. After the last Master Cadre Exam, It has been proved that MIM's strategy is perfectly adequate for students' needs.
Special Surprise
All the attendees will get a chance to win a special gift from MIM Academy. To avail this gift, one should signup & be active during the Masterclass.
The first 100 Participants will be allowed to enter the Masterclass Session on First-Cum-First-Serve-Basis. Join Today to Take Your Career to the NEXT LEVEL!
After our students' request, MIM launched Lecturer Cadre and Master Cadre courses three years back. Though most of the top rankers, whether they have taken coaching from MIM or not, are somewhere MIM's students either in IIT JAM or have prepared for CSIR NET Maths with MIM.
TEACHING EXPERTS
We are famous for the last 25 years to provide the Best Mathematics coaching for IIT-JAM, CSIR NET, GATE, MCA, Lecturer Cadre and Master Cadre Maths, and UPSC (Optional Maths).
JRF QUALIFIED TEACHERS
All faculty members are JRF qualified and students get direct access to all the faculty at any time.
EXTRAORDINARY RESULTS
We are proud to have produced many top ranks and many successful students almost every time.