Crash Course for NTA CSIR NET Maths, June 2022
MIM Academy is the Oldest Institute in North India, with excellent results over the years in CSIR NET, IIT JAM, GATE, We have made crash course program for the students of CSIR NET Aspirants who need to pace up their preparations in a shorter period of time. In this crash course program, we don't start from basics and then go towards advanced level. Basically, this Crash Course Program is most suitable for those students who have cleared  their basics and have knowledge of all of the subjects, but they  just needed the guidance and best tips & tricks to crack the exam.
For More Information Call Now :  8837643612 / 9216131001
About Entrance Exam: 
The Council of Scientific and Industrial Research (CSIR) is responsible for  conducting CSIR-UGC NET in CBT mode to NTA. This test is  being conducted to determine the eligibility 'for Junior Research Fellowship (JRF) and for Lectureship/Assistant Professor' in Indian Universities and Colleges subject to fulfilling the eligibility criteria laid down by UGC.  Applicants are invited Twice in a year on All India Basis through Press release Notifications.
Eligibility :
For Mathematics:
Anyone who has Pursued M.Sc./BS-MS/BS/B-Tech or any equivalent degree in the field of Mathematics to meet the eligibility requirements.
Note :
Candidates who are enrolled in M.Sc. program or those who have completed 10+2+3 years of education are also eligible to apply under the Result Awaited (RA) category on the condition that they will complete the qualifying degree with qualifying marks within the 2 year validity period to be eligible for the fellowship from the effective start date.
MIM Academy is the best coaching institute for CSIR NET Maths in Chandigarh and all over Punjab,  with excellent results over the years and the best faculty with years of teaching experience. We at MIM Academy focus on what actual teaching quality is rather than just gathering crowd.
MIM Academy Announces Registrations Open for Crash Course for CSIR NET Mathematics, June 2022
Offline and Online Classes!
Limited Seats Only!
Benefits of This course: 
Part A Classes.
Online and Offline Test Series.
Full Study Materials.
Recording of daily lectures will be provided.
Free Hostel Accommodation and Food.
For More Information Call Now :  8837643612 / 9216131001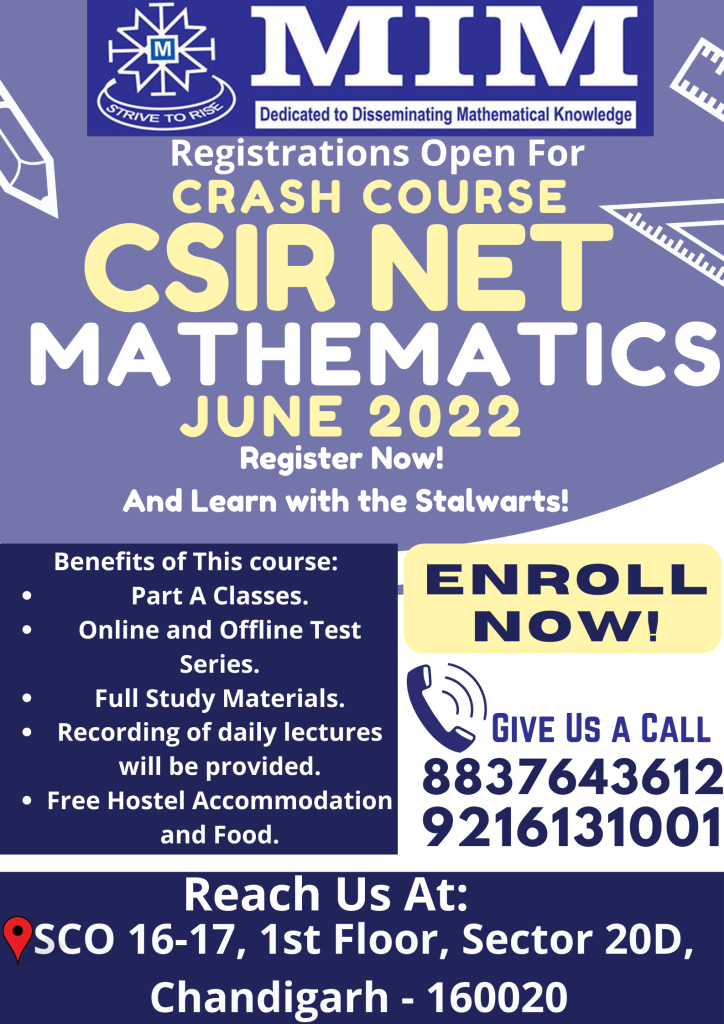 For Video Lecture Course, Check the Links Below:
Download our App from the links below:
MIM Academy
Org code – yaovi