CSIR NET Mathematics
MIM Academy is the best coaching Institute for CSIR NET  Mathematics in India. Mohan Institute of Mathematics is the oldest institute of Mathematics in Northern India with a Highly Competitive Environment and the Most Qualified Faculty. Hard work, Effort, and Quality Teaching are our Identity.
Our endeavor is to facilitate a conducive environment in which every student can engage in a meaningful learning experience and move forward towards analytical, logical, and mathematical learning for the achievement of their ultimate career goal. We not only impart Educational values but also moral and ethical values. We believe that" WISDOM CAN'T BE INHERITED BUT MUST BE ACQUIRED". MIM aims to achieve satisfaction in pioneering new efforts to spread the Best Education and not in profit-making.
MIM Academy provides Coaching for CSIR NET  in Mathematics, We have proven our endeavor by maintaining  excellent results over the years.
Course Link: https://bit.ly/3ODwtcT
This course is specially designed for the aspirants enrolled for M.Sc. (Maths) and preparing for NTA CSIR NET MATHS or other competitive exams. It is very important to start preparing CSIR NET Exam during M.Sc.
This course includes:
1. All video lectures & material to prepare CSIR NET MATHS Exam which includes
※ All detailed videos lectures
※ Online and Offline Test series,
※ Previous year papers discussion
※ Assignment Discussion Videos
※ Hard copy of study Material will be provided at home via post
※ 24*7 facility for doubts discussion in WhatsApp Group .
2. LIVE Classes for Doubts Discussions
3. Video Lectures for M.Sc. level exams. This course will not only be beneficial for aspirants of CSIR NET but also for aspirants of TIFR, GATE and NBHM. Confidence to face an interview will be an extra advantage if you watch all the videos and do all the assignments of this course sincerely.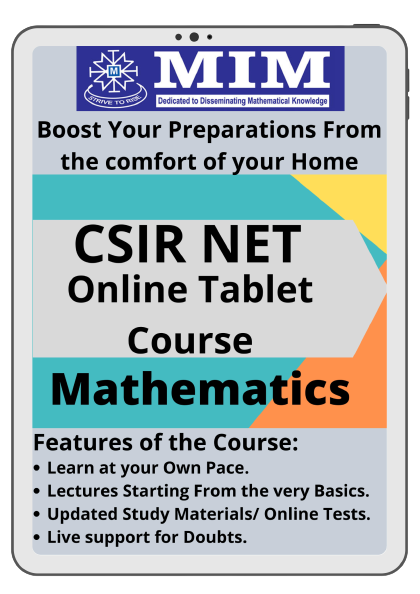 For more information and Registration Contact- 8837643612, 9216761001.
or fill this Form: https://bit.ly/3EJbNvv
For Submitting your details online, Click here