UP Higher Education Service Commission
About UPHESC :
Uttar Pradesh Higher Education Service Commission (UPHESC ) unbiased and fair appointment of highly qualified candidates through written exam and interview according to criteria decided by U.G.C and state government for the post of  Assistant Professor  universities subsidized by State government. For More details Visit their Official Site
About Course
To check contents of the course, Click Here.
This course is for the aspirants of the post of Assistant Professor (Mathematics) in Government colleges of Uttar Pradesh. Videos and study material are specially prepared to keep in view the syllabus and strategy to clear the written exam conducted by UPHESC for the above-said post.
Salient Features of the Course:
1. Starting from Basics, Video Lectures of all topics are provided. Important questions are discussed along with each topic to solve the questions quickly in the exam.
2. Hard copy of the study material will be sent to your address.
3. Online TESTs are included with SOLUTIONS to check your performance.
4. Doubts are taken by experts.
5. Questions from Previous papers are discussed.
Course Duration – 6 months.
DEMO Lectures are provided in the course, which can be viewed by downloading our APP.
For submitting your details online, Click here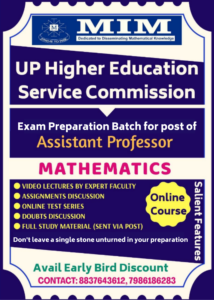 DETAILS OF ONLINE COURSE PROGRAMME–
Download our App from play store.
MIM Academy
Org code – yaovi
PROCEDURE FOR ENROLLMENT IN Online COURSE-
 To buy course, Click here  OR Download our APP from play store. Search MIM ACADEMY APP on play store and then register with your number using our org code "yaovi". Then visit the store section for its course.
Fees will be transfer online through our MIM ACADEMY APP . Details will be provided on request.
The study material will be dispatched within two – three working days through India post Office Courier from the date of fee payment confirmation
Students may contact our team for any problem they come across in the study material or in App on mathsmim@gmail.com. Our team will try to Reply them in 48hrs.